For a quick and simple perfect finish a gel polish is just the thing. Using CND Shellac or The Gel Bottle we will prepare the nails and cuticles, file and finish with a polish that lasts two weeks or more. With a huge range of colours and endless combinations of glitters and foils the hardest part of the whole appointment will be choosing one!
Gel Polish (Nails or Toes)
Colour: £24 French: £26
Gel polish Repairs (per nail)
Within 72 hours: Free of charge After 72 hours: £1.50 per nail
Gel Polish Removal: Applied by us: £6 Applied Elsewhere: £10
**Loyalty Offer - Removal and Reapplication (any finish*) within 3 weeks... £20**
Broken or split a nail? Add an overlay/tip to any Shellac treatment for just £1/£2 per nail. Please try and advise us of nail repairs beforehand.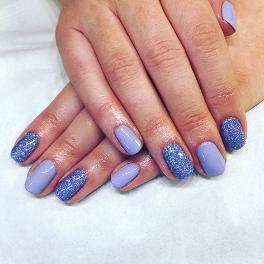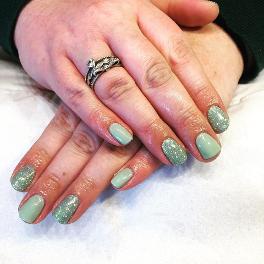 Entity Dip & Buff Acrylic Enhancements
The unique Dip acrylic system is thinner, quicker and less damaging to nails that traditional acrylic. Whether it's to add strength with an overlay, or length with extensions, dip nails are one of our most popular treatments in the salon!
Overlay... £30 Extensions... £35
All include your choice of gel polish finish*
Removal included free of charge with any fresh set
Removal Only... £10
Dip and Buff Repairs... within 72 hours: Free of charge
After 72 hours: £2.50 per overlay/£3 per tip
Please Note: Our Dip and Buff Acrylic is removed in a different way to traditional acrylic/gel extensions. If you need a removal of enhancements applied somewhere else please contact the salon to discuss this to ensure we allocate enough time.
Removal of enhancements applied elsewhere:
Soak Off Product: £15 Buff Off Product: £20
(If you are unsure then we will allocate enough time to buff off)
Nail art, crystals, stilettos etc will require longer appointments. Please ask for details/prices.