Discover Beauty is proud to be one of the only salons in the area to be able to offer Cryolipolysis (or fat freezing). This can be used in small areas to help contour the body and remove stubborn areas of fat. Cryolipolysis is a scientifically backed, non invasive alternative to liposuction which can permanently destroy up to 40% of fat cells in a localised area within just one session!
What is Cryolipolysis?
Killing fat cells by freezing was discovered by scientists accidentally almost 50 years ago. Over the years this process has been developed and refined in to the high tech cryolipolysis machines that are available to clinics and salons today. The procedure is safe, with minimal discomfort and high satisfaction rates when aftercare is followed correctly. There is no down time after the procedure so you can even schedule it in your lunch hour!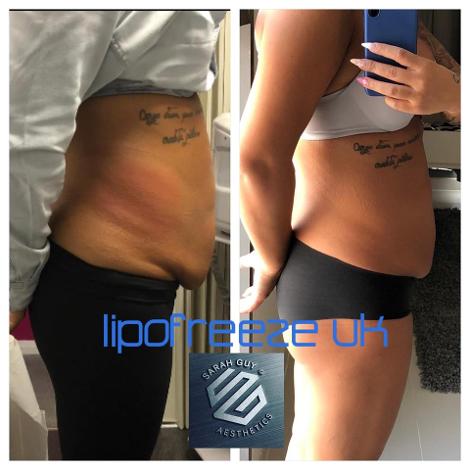 How does it work?
Using a special cryolipolysis machine we can target small-medium sized areas. A membrane is placed over the skin to protect it. A gentle suction holds the area in place whilst special plates first warm the area then very quickly cool the area to around -5 degrees! This temperature destroys fat cells that are exposed to it however other tissues such as nerves and skin are left undamaged (they require much colder temperatures to be damaged). After around 45 minutes the machine is removed and the area is lightly massaged.
Why choose Cryolipolysis?
Fat freezing is one of the only scientifically backed forms of body contouring (aside from plastic surgery). One major factor in making the treatment so successful is that it actually destroys fat cells rather than just shrinking them, making it a lot harder for the inches to return! In the 10 years since it was introduced to the general cosmetic market studies have found that an average of 86% of clients showed an inch loss with with even more clients seeing a result after a second session.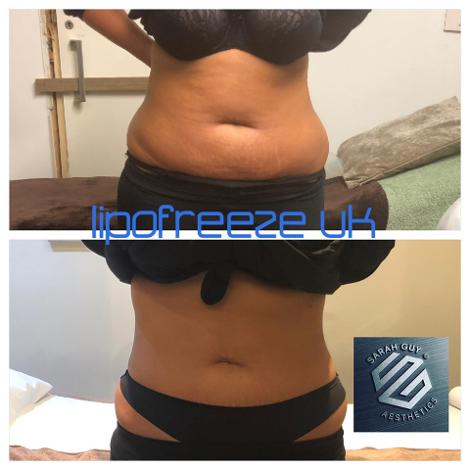 Who is it suitable for?
Fat freezing is generally suitable for anyone in good health within around two stone of their target weight. It is the perfect treatment to target stubborn areas of fat that no matter how hard you try just won't budge and works best on wobbly, soft fat. In order to have the treatment you must be at a relatively stable weight (or in the process of losing weight) to see the best results. The treatment does not work on bloating, saggy skin or fluid retention.
Unfortunately if the area is too large then the treatment will not be suitable due to body composition and the restrictions of the machine. As a general rule the treatment is suitable for UK clothes size 16 and below.
These are just guidelines and every clients suitability will differ depending on body composition, body shape and lifestyle so please don't hesitate to get in touch if you are unsure if the treatment will work for you.
For anyone with current health conditions please check with the salon prior to booking to make sure that you will be eligible to have the treatment.
What areas can you treat/How many treatments will I need?
Fat freezing works best on torso fat (stomach, love handles and back) which usually see great results after just one session. Depending on the level of contouring requested a second session may be needed in order to cover all the areas or for particularly stubborn areas.
Lower body and limb fat (arms, legs, under-bum) is a bit more stubborn and usually requires 3-4 sessions in order to see desired results.
Due to the body having to process the destroyed fat cells through the liver there is a limit on how many sessions we can do in any time period so as not to overwhelm your system. A maximum of four areas (one area = lower stomach, upper stomach, one arm, one thigh etc) can be treated in one double session. If more areas are to be treated these can be done 2-3 weeks later. If the same area is to be treated to see even greater results this must be a minimum of six weeks from the previous session.
What are the side effects?
Immediate side effects may be slight marking to the skin due to the suction of the machine (a bit like a slight bruise/love bite). If experienced, these normally fade within a few days and can be helped with an arnica cream or gel if you wish.
Some clients experience localised numbness mid way through the treatment which can continue for a couple of hours post treatment. In very rare cases this numbness has persisted for a couple of weeks.w
Working at such low temperatures there is a risk of a cold burn to the skin. However we will do everything we possibly can to minimise this risk and if the machine and skin membrane are used correctly then the risk of a cold burn to the skin is very, very small.
Once the fat cells are destroyed they must be processed through your liver before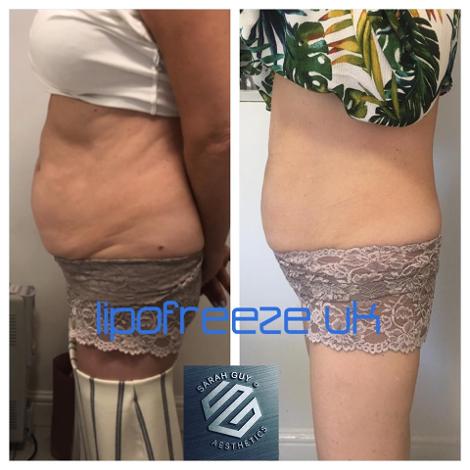 they are expelled from your body which can take several weeks. As such you may find you are more thirsty than normal and drinking at least two litres of water a day is really important during this time to aid the process. It is also important that your liver does not have any other unnecessary toxins to deal with so keeping alcohol, caffeine and nicotine to a minimum during this period is also really important to see the best results.
What do I need to do after the treatment?
For six weeks post treatment DRINK LOTS OF WATER!!! No seriously, if you do not drink enough water to flush all of the fat cells out of your system YOU WILL NOT SEE RESULTS! I can't stress this enough and you will be sick of me repeating this throughout your treatment!
A healthy balanced diet with minimal alcohol, caffeine and salt will greatly improve your results. If you are a smoker we would also advise you to cut down where possible in order to minimise the toxins in your system.
When will I see results?
Some results can be seen immediately, however the great thing with this treatment is that because the body takes time to process the destroyed fat cells you actually carry on losing inches over the course of around eight weeks! We recommend booking a quick review appointment to check the progress of your results and assess the next steps of your treatment for your desired results. your therapist will also be in touch over the eight weeks to check how you're getting on with the aftercare and ask for update photos where possible.
Will I need to be photographed?
For insurance and treatment review purposes we will need to take up close photographs of the areas to be treated. These will never include your face and will be stored digitally in line with current data and privacy legislation. We will never share photographs publicly without your express permission.
How much does it cost?
Treatments start from just £100 for single areas with four area packages priced at £250. For multiple session contouring packages or to combine with other treatments such as stretch mark reduction don't hesitate to drop us a message fora bespoke package price. You can check out our full range of areas and prices by clicking Book Now below.